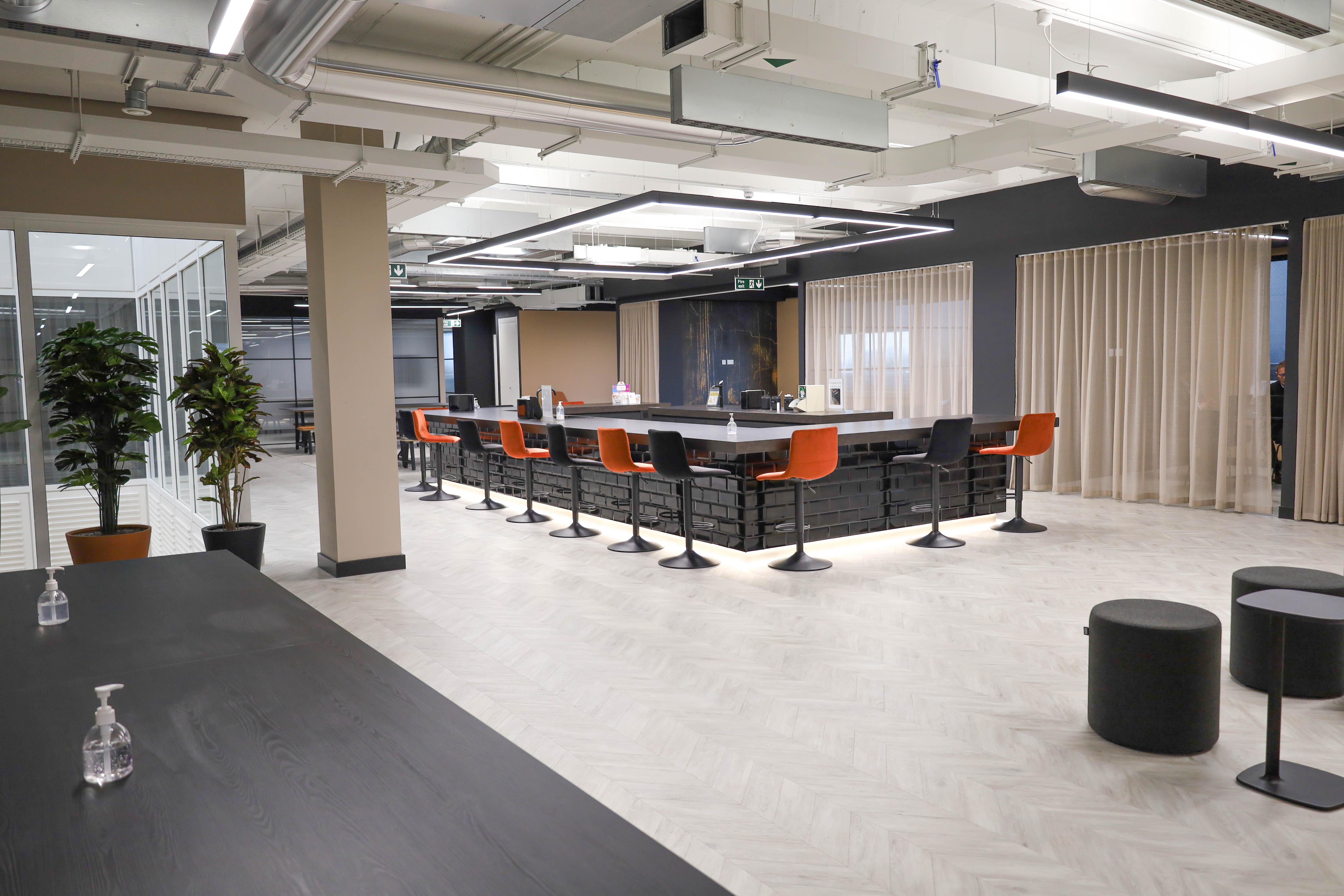 Latest News | Elena Zinonos
Enra Specialist Finance achieve new AirScore 365 award for consistent high performance of indoor air quality at The Hyde, Watford
The award is given to organisations that undertake continuous indoor air quality (IAQ) monitoring and maintain high levels of performance across a 12 month period
AirRated's AirScore is an accreditation that uses a data-driven approach to help building occupiers identify healthy and productive spaces with excellent indoor air quality
Organisations that undertake monthly reporting, or have continuous data collection are eligible to receive the AirScore 365 award
The award builds on AirRated's partnership with Enra's landlord, LGIM, who have worked with AirRated to certify over 1.25 million sq ft of commercial office space and educate occupiers on the importance of good IAQ.
AirRated, creator of the global benchmark for indoor air quality (IAQ), has announced Enra Specialist Finance as the first organisation in the world to receive its new AirScore 365 award for excellence in indoor air quality performance.
The award signifies Enra's commitment to undertaking continuous IAQ monitoring of their workspace within The Hyde, operated by Legal & General Investment Management (LGIM), and the consistent delivery of a healthy, comfortable and productive working environment over a 12 month period.
With The Hyde already achieving an AirScore certification, Enra furthered their commitment to creating a healthy, safe and productive work environment for their staff by working alongside LGIM, building manager, Bellrock and property data platform, Demand Logic, to implement continuous IAQ monitoring and implement best practice to maintain a high quality, indoor environment within their working environment.
The demand for healthier indoor environments is increasing and recent calls for public buildings such as offices, schools, supermarkets and hospitals to make IAQ monitoring mandatory have been made by leading voices in public health including the UK's Chief Medical Officer, Professor Chris Whitty. Recent World Health Organization data suggests that dirty air in buildings may contribute to nearly as many deaths as outdoor air pollution (3.2 million vs 3.5 million per year).
Transparency is also a key requirement for employees and occupiers. Research commissioned by AirRated at the end of 2022 suggests that 81% of employees believe that IAQ monitoring should be mandatory for all office buildings, whereas only 21% of UK organisations are committed to IAQ monitoring in their buildings.
Francesca Brady, CEO of AirRated, said: "The responsibility for delivering and maintaining air quality has been a hot topic of discussion with no defined outcome for a long time, yet we all know it is the people in the building who are affected by air quality. In order to deliver a consistently healthy indoor environment, a collaborative approach between landlord, occupier, property manager and suppliers is required. This example, of Enra's achievement at The Hyde, showcases how to execute a positive approach and successful outcome, where responsibility is shared. Enra Specialist Finance is now able to validate the health of their workplace and promote the benefits to their people."
Stephen Hogg, Chief Operating Officer, Enra Specialist Finance, said:"Our decision to relocate to The Hyde building was driven by Enra's desire to provide colleagues with a comfortable, productive place to work and space for our business to grow. We are believers in the value of office-working; and a safe, well-managed working environment is a necessity to enable collaboration, innovation, and the training and development on which our success as a business is based. Modern technologies and creative propositions like AirScore help us to ensure that the environment our colleagues work in every day is supportive of our success, not a distraction from it. We're delighted to have achieved the AirScore 365 award as recognition of our ongoing commitment to providing our people with a great place to work."
Mark Tyson, Head of Property Operations at LGIM, said:"We are delighted to demonstrate the benefits of close collaboration between property owners and occupiers. Enra have shared our vision to provide high quality working environments and I am pleased our approach of managing sensor data in real-time is leading to demonstrable high-quality outcomes. Our partnership with AirRated allows us to validate these outcomes through the monthly AirScore report and certification. This approach is in place across 20 of our properties across the UK and allows us to offer a proactive service to our occupiers and a real partnership approach to managing space."
The AirScore is a simple and reliable measure that provides the industry standard for Indoor Air Quality (IAQ) in the built environment. The latest sensor technology is used to monitor five key parameters for IAQ: humidity, temperature, PM2.5, VOCs and carbon dioxide and after a three-week monitoring period AirRated then awards an AirScore to buildings at one of four levels: Platinum, Gold, Silver or Certified.
AirRated also provides assistance to clients on how they communicate the quality of their space and educate occupiers on the importance of IAQ as well as best practice use of space. Some practical applications include monitoring CO2 in meeting rooms and advising users to ventilate the space or find an alternative venue if levels exceed acceptable limits.
AirScore 365, is awarded to organisations who not only certify their building but conduct ongoing monitoring and maintenance of their building to consistently deliver a healthy, safe and productive indoor environment independently reviewed by AirRated on a monthly basis, over a 12 month period.